How Klik IT started 25 years ago...and what's next?
As Klik IT celebrates 25 years in business in 2023, we took some time out to chat to CEO, Terry Clarke.
Read more >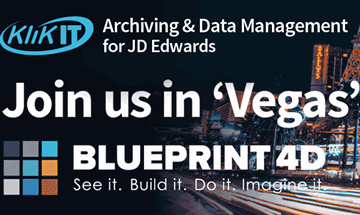 In conversation with Terry Clarke about BLUEPRINT 4D 22
We chat to Terry Clarke, CEO about the 2022
Quest BLUEPRINT 4D

Conference Read more >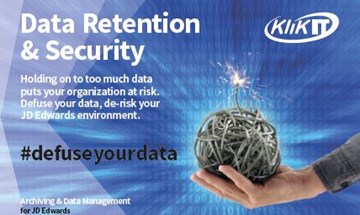 Data Retention & Security
Data Retention and Security is a hot topic and a vast subject. 
In this Blog post we look at Data Retention and Security from the perspective of organizations running JD Edwards.  We cover the key considerations as we see them and provide links to industry articles and information for a broader view of the subject.
Read more >
In conversation with Terry Clarke about BLUEPRINT 4D 22

Meeting face to face!
The virtual Quest InFocus conferences were a great way to keep the JD Edwards community connected in 2020 and 2021.  Despite the many challenges we all faced during that time, the virtual platforms brought the educational sessions and opportunities for dialogue and interaction into our homes across the world.
However, if you ask the JD Edwards community what is going to make BLUEPRINT 4D a particularly special conference and exhibition, I'm sure the majority will be looking forward to the opportunity to meet up in person.
The keynote presentations and speakers from across the industry are a crucial part of the BP4D show. However, it's really all about the JD Edwards community having the opportunity to come together at the same time, in one location.
Knowledge sharing, networking, learning and socializing all make the conference a powerful experience for the attendees.
We know from first-hand experience, how well the Quest Oracle community conferences and events work virtually and the benefits the virtual events bring.  Nonetheless, connecting in person, having the chance to chat and exchange information and experiences is something we value greatly with the Quest JDE Community.
Having attended the annual Collaborate conferences for more than a decade (prior to Covid), we're counting down to the BP4D experience and everything the Conference and Exhibition has to offer.
It's still early to give too much detail away.  I can say though that there'll be a new product enhancement announcement nearer the time.  Our JDE developers and product consultants are working hard on this in the background now!
Come by the booth on Main Street #513.  We'll have live product demos and details of the latest Purge-it! and Manage-it! updates.
There'll be lots of swag give-aways!  That's an element that was missing for the past couple of years with virtual conferences.
Drop by to enter Quest-opoly and get a chance to win the Klik IT Quest-opoly prize! We have a great prize once again to give away.
Follow us on Twitter and LinkedIn for updates
You can pre-book a time by accessing the online calendar.
Otherwise, drop by the booth #513 and speak with us.  Claudio Aru, VP of Sales and Richard Wilde, JD Edwards Product Consultant will be on the booth with myself.
Take a look at the Quest BLUEPRINT 4D web pages.  There's a lot of detail about the agenda, presentations, activities, reasons to attend and options for booking tickets.  Don't forget there's also a large exhibition area where you can meet up with suppliers like us, and other professionals in the JD Edwards arena.

There's a big push around coming to Las Vegas, but BP4D is a hybrid conference.  This means it is possible to be part of the conference experience without travelling.  The virtual conference may be a better option for your organization.  It's worth looking at the different options.
However you choose to get involved in the BLUEPRINT 4D Conference (starting June 6), we're looking forward to sharing our JD Edwards specific solutions and updates with the community.  We hope to meet with as many of you as possible and share how we can support your JDE data challenges with our software and services.



News Snapshot...
Drop by the booth on Main Street #513
Experience live product demos


Discover the latest Purge-it! and Manage-it! updates


Collect some Klik IT swag give-aways!



Enter Quest-opoly! Have a chance to win the Klik IT Quest-opoly prize!
---
---
---

---