Purge-it! Customer Survey Results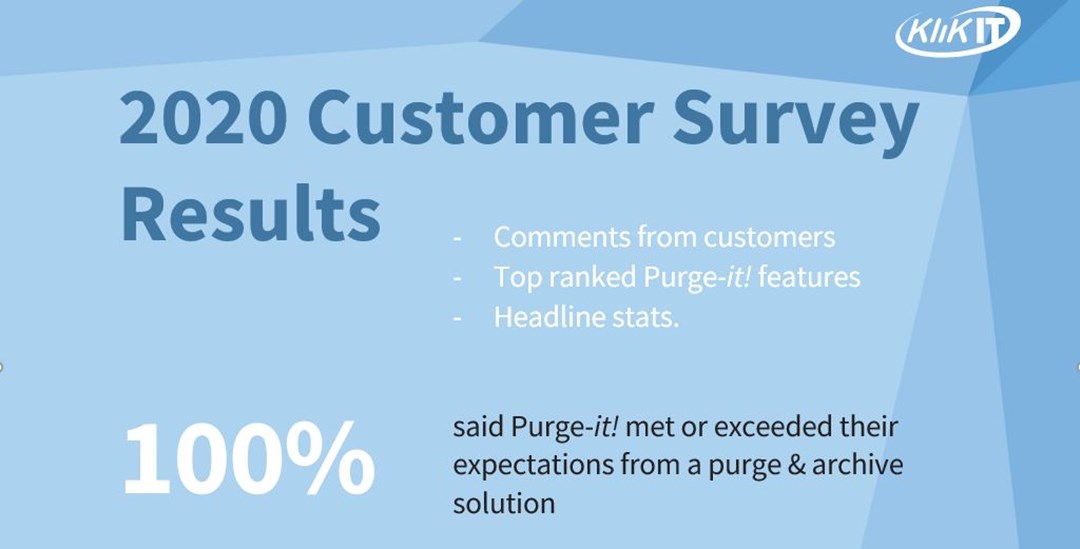 - 95% - rated Purge-it! the most

cost effective & easy to use

solution on the market
- 20% - bought Purge-it! to replace a competitor product
- 76% - chose Purge-it! to

avoid learning a third party product
- 85% - carry out annual or as required purges
- 95% -

said they would

purge as part of an upgrade

, and 85% before the upgrade How Purge-it! has directly benefited customers...in their words...
⇒  "Top benefit is it maintains integrity"

⇒  "Reduction in Cloud allocated storage space, and thus cost"
⇒  "Created a safe, efficient, and easy to use method for cleaning and moving our data."
⇒  "Improvement of batch processing of several business critical reports"
⇒  "Consistent repeatable process to archive the data and is now part of our Production run book"
News Snapshot...
Top

Purge-it!

features ranked by our customers:


1.  Document level processing, ensuring data integrity within the module at all times
2.  Hard coded data integrity enforcement to minimize errors
3.  No table locks or system downtime
4.  The ability to easily reverse at any level
---
5.  Single process for purge, summarize and archive
6.  The audit reports and details for determining why transactions have not purged
7.  How Purge-it! looks, feels and works just like JD Edwards
8.  The ability to use the Custom Module to archive / purge other data
---
9.  That it is an Oracle Validated Integration
10. Overall ease of use
11. The out-of-the-box access to the archived data, from within Production
12. Platform Independence
---
13. Ability to choose the archive method - FYK tables to view archived data in Production, or use the standard file names
14. Dashboards for analyzing results and archive environment status (V4.27 & above)
15. The option to self install / self train / self operate
16. Ability to purge and archive between servers / platforms
---
Comments about

Purge-it!
"Performance increases in both the ERP system and SQL applications"
"It has native JD Edwards objects and setup, and configuration is all within JD Edwards"
"It is great that the archived data is accessible within the Production environment"
"Quicker backups and restores"
"Increased processing speeds and database response/efficiencies"
---
100% said Purge-it! met or exceeded their expectations from a purge & archive solution.