InFocus Envision 2021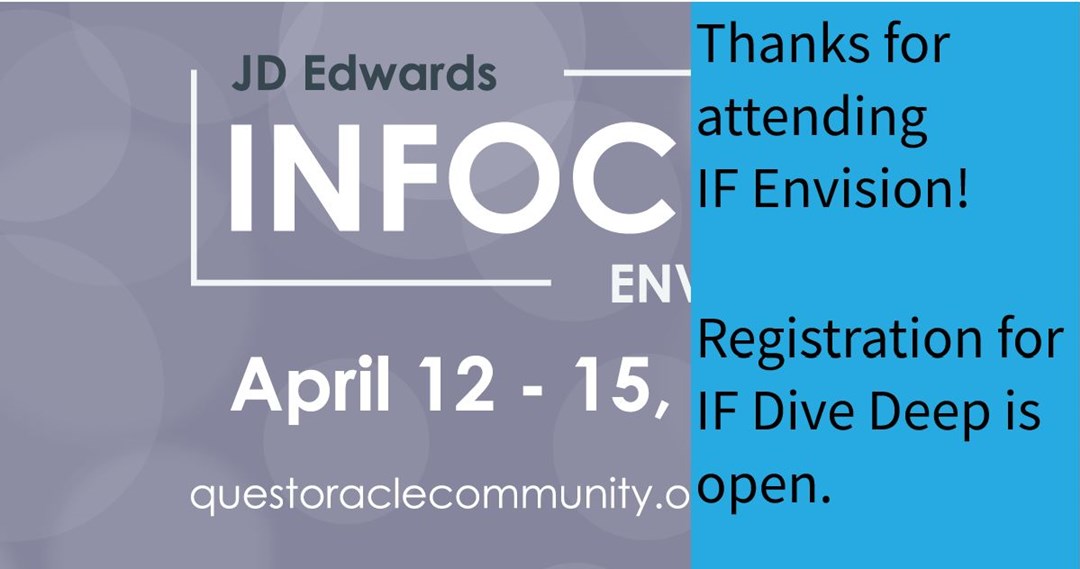 Thanks to Quest for another great InFocus Conference!
We can't believe it's already the second year that we've had this new virtual format.  It's wonderful to be able to connect with so many JD Edwards users in one place.
Didn't attend InFocus Envision this time? No problem.  To chat about JD Edwards Archiving and Data Management or to access the materials from our booth email us and we'll get in touch. 
---
JD Edwards Dive Deep event is scheduled for Oct 18 - 21.  We'll be there and hope you will be too.  Registration is already open!
This is how Quest describe Dive Deep...
"Practical, hands-on learning for the JD Edwards community."
"Picking up from where INFOCUS Envision ends, INFOCUS Dive Deep completes our two-part virtual JD Edwards conference series connecting IT leaders and business users to JD Edwards experts, industry innovators, technology leaders and Oracle product teams for insights, education and information."
"At INFOCUS Dive Deep, JD Edwards users of all levels can dig into new releases, dive deep into practical learning, get new ideas from best practices and hone their core JD Edwards skills during four jam-packed digital days of education and networking. Attendees can chat with the experts, connect with and learn from other users and meet solutions providers."
https://questoraclecommunity.org/events/conferences/infocus-dive-deep/
News Snapshot...
Checkout our sessions from InFocus20.
Presented by the Klik IT team in Oct 2020.
Videos and Materials - available to Quest members
---
If you didn't get chance to visit our virtual booth at InFocus Envision or didn't attend the Conference, you can still watch the videos and catch up at a time that suits you...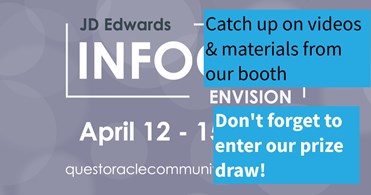 ---