 Marek sums up Purge-it! in 3 words
1.  Intuitive...no new software to learn
2.  Thorough...pre-archive validation checks
3.  Fast...to learn and implement. Speeds up JDE
Originally founded more than 80 years ago as a drywall business, MAREK began shaping the industry with the innovative way it purchased, delivered and installed drywall in the market. It has since diversified as a large company with a variety of product offerings.
Background
⇒  Marek is running Oracle JD Edwards EnterpriseOne 9.2
⇒  8 standard Purge-it! modules in use; AP, AR, GL, INV, PAYHR, PUR, SAL, WO
⇒  Custom Module and Custom Module Extension Pack also being used
Why Marek archived JDE
JDE slowing down

noticeably

Reports taking longer

to complete

20 years since last custom in-house archiving
5 reasons Marek chose

Purge-it!
Positive user experience.

No new software or functionality to learn
Navigation, file structure and screens

same as JD Edwards

Straightforward to learn

Easy to monitor archive status

and see results
Simple for system users to

access archive environment
---
Marek finds ease of use of the archiving solution a great time saver
No SQL expertise needed

No need to switch between screens

No need for another log-in

No new software package to learn
---
Sam Nunez, Financial Systems Manager, Marek comments on time saving with Purge-it!:
"At no point did I need to go and train staff or deliver a presentation on how to move through the screens in Purge-it!"
"I showed the JDE system users where to navigate to in the system to access Purge-it! They could readily see the layout and data fields. It was simple."
---
Validation checks highlight incomplete data
---
Sam Nunez, Financial Systems Manager, Marek comments:
"Purge-it! validations tell you the health of your data.  Are you fully processing your data?  What's closed and complete? You have the opportunity to go back and resolve open jobs."
---
Marek had done custom in-house archiving many years earlier.  This was in the late 1990's and early 2000's when the company upgraded from a JDE legacy system to World 7.3. The upgrade to E1 took place in 2013. At this point Marek stopped the custom in-house archiving.
With the custom in-house archiving, Marek had experienced problems with missing data in AR and AP.
Purge-it! highlights data integrity issues. Marek can now find out where there are issues in the data, then go back to those records and look to resolve open invoices and investigate why cash payments may not have been applied.
For Marek, the Purge-it! validation checks are a great way to encourage system users to make the data as clean as it can be. The company knows, in order to increase archive and purge success rates, action has to be taken to tackle issues with the data.
Developing a Data Retention Policy
Marek spoke with the different departments within its business to agree the maximum number of years data needed to be kept.  Legal requirements relating to the data were also verified.  Following this, Marek implemented a retention period of 5 years plus current fiscal year in production plus 5 years in the archive.
---
Quantity of data archived
46% of Marek's data covered by standard
Purge-it!

modules was archived
---
Data purged with Custom Module
Marek purged employee master data that was 20 years old using the
Purge-it!

Custom Module...approximately 39 000 employees
---
Purge-it! Environment Dashboard.  Amount of data archived.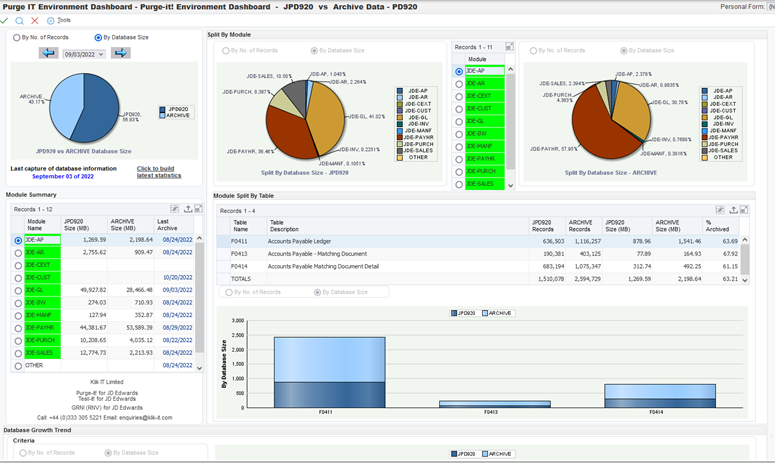 Marek's Payroll run times pre and post archiving with

Purge-it!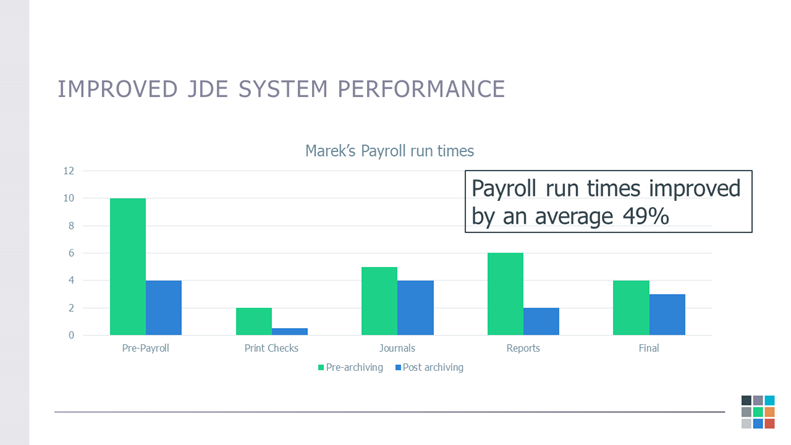 ---
Story Snapshot...
Fast to complete
Archiving across 8 standard Purge-it! modules was completed in 2 weeks!
Each module took one day to complete with the exception of Payroll and GL which, due to the volume of data, took two days each.
---

---
JD Edwards system got faster!
Marek's CFO runs a large report annually.
Following archiving the report completes in a matter of seconds.
---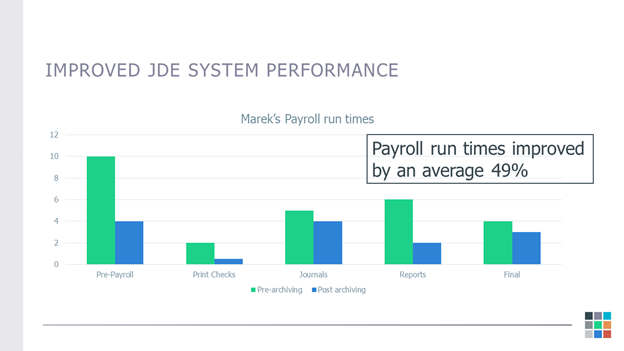 ---
Sam Nunez, Financial Systems Manager, Marek comments:
"The implementation of Purge-it! was really smooth."
"We're very happy with the results we've achieved from archiving and the significant increase in performance."
---
A positive for Marek
Working with a UK based company.
Klik IT is based near London in the UK. This works out great for Marek. The Klik IT team access Marek's JDE system overnight while no users are logged in. The work is completed and ready for the start of Marek's business day.
Another positive.  The time difference isn't so big that there's no overlap in working hours. It's practical and easy to set up calls.
---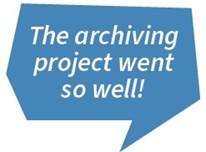 ---