8 reasons to automate your JD Edwards archiving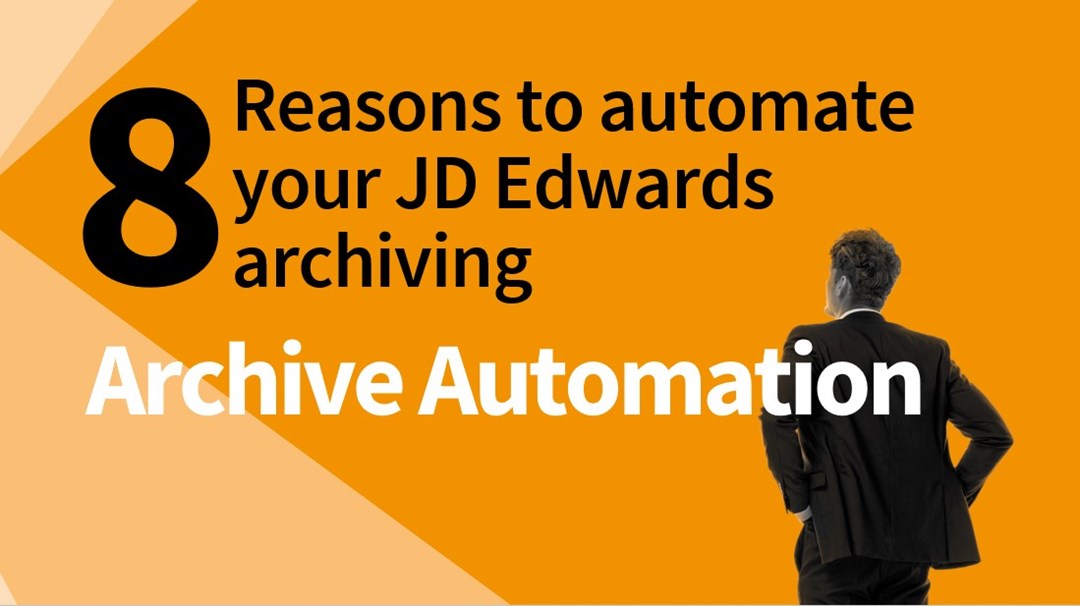 What can archive automation bring to your JDE environment?
8 reasons to automate your JD Edwards archiving


1.  Proactive approach to archiving
With Archive Automation, JD Edwards data is continuously removed from the system.  This proactive approach to archiving removes more data than is being added.
2.  Free up IT talent
When an ERP system is under pressure, much time and effort can be absorbed troubleshooting issues for users and 'firefighting' tasks behind the scenes.
By removing this 'dead' time, employees can re-direct their skills to higher value projects and priority areas for the business. 
3.  Minimal disruption
System performance is unaffected
Zero downtime
Instead of logging complaints with the helpdesk about a slow and unresponsive system, users steadily start to experience improved response times.  Within a few short months, the overall system performance will be greatly enhanced.
Month, quarter and year end processes go ahead as planned.  System maintenance is not impacted.  The release schedule continues.
JD Edwards systems often contain large amounts of redundant records, but archive automation enables several standalone archive jobs to complete in the background. System users won't realize this is happening.  The first they will realize is when they experience improved system performance.
4.  Remove data at a faster rate than it is added
Running and completing multiple individual small archive jobs every day for a period of months, makes it possible to lift and shift huge quantities of data out of the system painlessly.
Removes the date that is added today and every single day in the life of the system
Simultaneously and continuously removes data from multiple earlier years.
5.  Relevant and essential data only kept in Production environment
When users see the positive impact archiving can have on the performance of the JDE system, it can be a catalyst for change in attitudes across the business towards archiving. It can drive requests to add data from additional JDE modules to be archived.
6.  Smaller JD Edwards table sizes.  Automatic re-indexing greatly improves system performance.
To illustrate this point, let us look at a customer example from the Furniture Manufacture industry.  La-Z-Boy Inc. adds millions of rows of data to its JD Edwards system every week.
Prior to using Purge-it! to set up archive automation, La-Z-Boy found the indexing jobs for FO911 never completed. They used to self-terminate after 30 days whilst the system was still trying to rebuild them. Following General Ledger archiving, the company can rebuild the indexes on F0911.
A business stakeholder was amazed to see a 97% reduction in time to complete a routine report, from 12 hours down to 25 minutes!  Prior to archiving, the report was run quarterly because it was so lengthy to complete.  It's now possible to run it whenever it is needed by the business.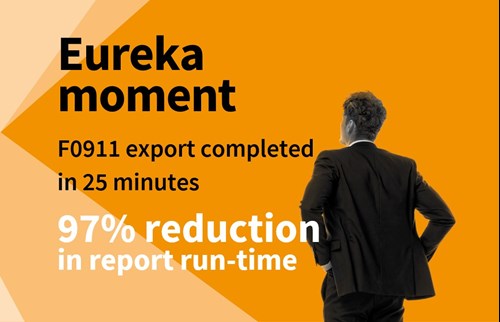 Customer case study.  La-Z-Boy.
7.  Develop a Data Retention Policy
With archive automation, users start to see the rewards of removing data from the JDE system.  Users notice the system is faster and more responsive. This improvement in UX can trigger a positive shift in attitudes within the organization towards archiving data.  This can facilitate conversations around developing Data Retention Policies.
Archiving JD Edwards data may get pushed down the 'to do' list in your organization but as large quantities of data are gradually moved out of the system and the user experience is enhanced, then it's easier to discuss data archiving with stakeholders across the business.
8.  Self-maintaining JD Edwards system
Archive automation removes the time and resource spent on building up to and overseeing an end-to-end archive project.
It removes manual intervention in what is an essential element of good ERP system maintenance.
Interactive dashboards facilitate easy monitoring of the automated archive process.
Dashboard interface enables in depth interrogation and analysis of what's happening inside JD Edwards.
News Snapshot...
⇒  Automating JD Edwards archiving can bring an end to manual intervention every 3, 4, 5 or more years.
⇒  When automation is set up with Purge-it! then the hard work happens in the background without human intervention.
⇒  Valuable IT resource can be redeployed to focus on higher value projects.
⇒  The JD Edwards system can operate efficiently.
⇒  The User Experience is enhanced.
---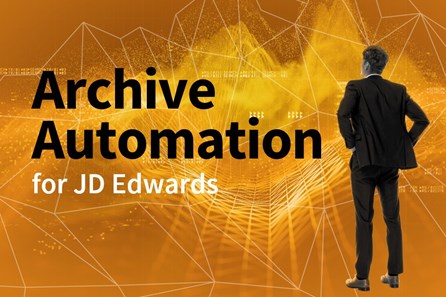 Read our earlier blog post.
What is archive automation for JDE?
---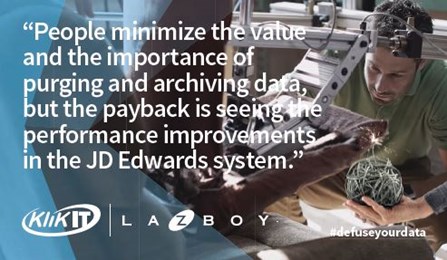 ---