 What is JD Edwards Archiving as a Service?
A fully managed archiving and data management service delivered by JD Edwards archiving specialists, designed to extend the life of your JD Edwards system and the hardware that it is running on
Why could Archiving as a Service benefit you?
Many companies are now choosing to consume software using the As a Service model.  This may be for many reasons, from simply the way that you wish to account for software within your company, to a lack for resource, and/or knowledge of how to run an archiving project!
So how does JD Edwards Archiving as a Service help? 
Avoid upfront software costs
Delivered using the As a Service model - may not require Capital Expenditure
Archiving specialists will review your data and work with you to develop a meaningful Data Retention Policy for your business
No in-house knowledge acquisition or training required
Archive environment configuration is performed as part of the Service
Legal compliance with data legislation is enabled
No need to allocate staff or resource to the archiving project
IT resource is free to focus on more visible business tasks
So if you just want to 'get the job done', then maybe Klik IT's Archiving as a Service is just what you need.
Already a Purge-it! customer?
If you are already a Purge-it! customer and want to swap to our As a Service model, don't worry, we have plans to suit both new and existing customers
Read more:

What's included?

>
Archiving as a Service includes:
Klik IT's dedicated team of JD Edwards archiving specialists have over 200 Purge-it! installations and projects behind them.  During which they have gained a wealth of information on how to run a purge and archive project.  
If you purchase our Archiving as a Service product, you will have one of our experienced team members as your dedicated Client Manager.  They will work with you to help define your data retention policy, install configure and run Purge-it!, and make sure the activities are kept going, year on year.
Using Klik IT's Archiving as a Service you will benefit from:
Access to Purge-it! the archiving software solution
Implementation and configuration of your archive system
Delivery of a Data Retention Policy specific to your organization
Regular archiving processes
Statistical analysis & archive activity available through powerful EnterpriseOne Management Dashboards to keep you fully informed of all activities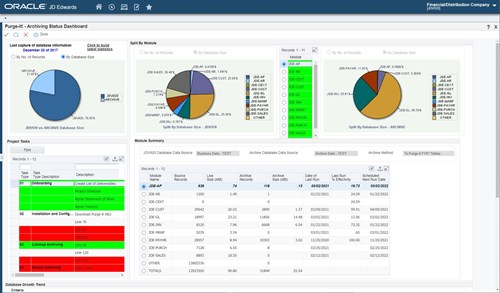 Klik IT Product Support Desk
And the support doesn't end there.  At all times you will have access to the Klik IT product support desk.
Selecting the best plan for your business
Archiving as a Services is available in different pricing plans to suit your company's needs.
Whether you are an existing Purge-it! user, don't have an archiving solution, or want to switch from your current product, we have a plan for your business.
Read more:

Resources... to read and download

>
Archiving as a Service resources
You might also be interested in…