 It gives you information, otherwise only available to techies!
If you run JD Edwards and you want to understand some of the key performance indicators of your system then you will probably need to ask your database or system administrators to extract and then explain the information.
For the first time, you can now see information around database size, health and job performance, all from within JD Edwards itself using new powerform based dashboards.
Using Manage-it! you can:
See exactly what is happening inside your JD Edwards database 
Focus on the information that really matters
Maintain data in your Test environments using less space than a straight copy from Production
Protect sensitive data
And it doesn't stop there!
Manage-it! does not just provide system information, it is also a powerful toolset that allows you to refresh datasets in your JD Edwards Test environments and apply data masking functionality to protect sensitive data in these environments.
And will continue to grow
Manage-it! is a new and unique product in the JD Edwards market place and will continually grow in functionality.
All at an affordable price
Manage-it! is available on a low priced annual subscription model.  
Read more:

The Product

>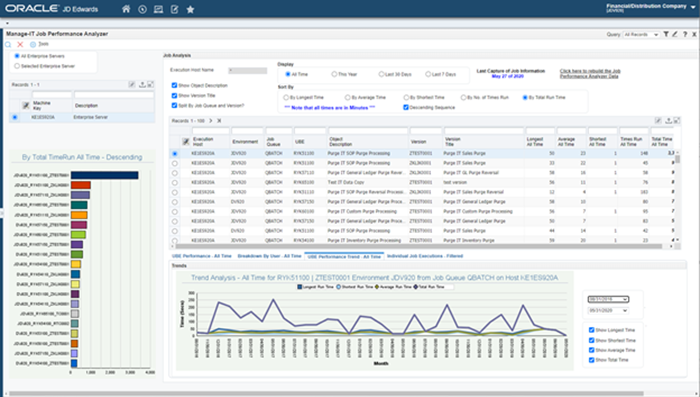 Four ways to take control:


  Dashboard-led data analyzing tool


- Understand more about the size of your database, with insights into exactly where specific data is held
- Forecast your database storage requirements and costs
- Anticipate how and when you need to archive with Purge-it!



  Database monitor


- Receive alerts and act on them when thresholds are exceeded
- Identify and fix database issues before they become critical
- Check the integrity of database tables



  Data copying tool


- Quickly create test environments
- Copy data between tables in different sources
- Completely or partially refresh test environment



  Data Mask


- Ensure you are protecting sensitive data in your test environments and are GDPR compliant in this area
- Quickly mask sensitive data in your test environments
- Masks can be applied when refreshing test data with


Manage-it!
Read more:

V1.03 -The Job Performance Analyzer

>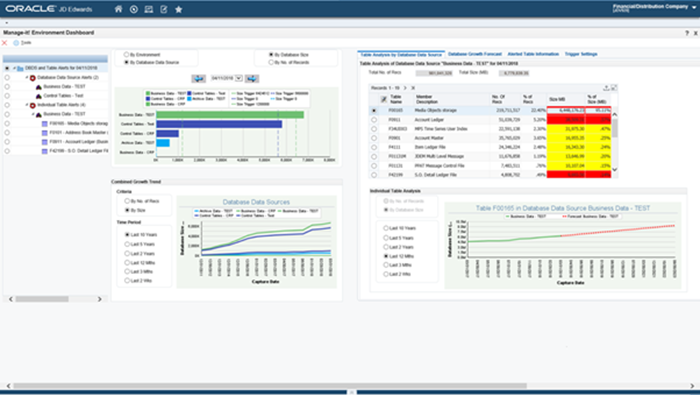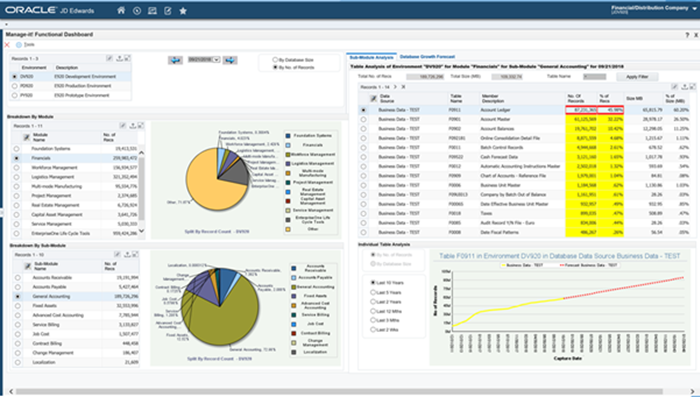 Manage-it!

Version 1.03F includes the Job Performance Analyzer, a new analytics dashboard.


In keeping with Manage-it!'s goal of helping users of JD Edwards better understand their system, and what is impacting on its health and performance, the Job Performance Analyzer shows the loading on your system by giving detailed analytics on batch jobs.
Find out:
Your longest running batch jobs?

How often they are run?

Which users are submitting them?

Combined run times on your system for these jobs?

How different versions of the same jobs perform?

Are jobs that used to run quickly, now taking longer to complete?
With version of 1.03, this information can be at your fingertips in a single, easy to use Dashboard.  And you don't need to be a system administrator to use or understand it.
We have designed the Manage-it! Dashboards with the non-technical user in mind, thus removing the need to request reports from your system and database administrators.
Manage-it!

Dashboards are well suited to those who need high level technical information from their JD Edwards system.

The Dashboard takes information from the JD Edwards Job History tables and presents it to the user in a collated and summarized form.  The user can filter the data by time period they wish to analyze and sort by the analytic detail they are interested in:

At the heart of the Dashboard is a grid containing summarized batch job and version information sorted in ascending, or descending sequence.

Read more:

Resources... to read and download

>
Other dashboards draw information from this grid, including:
Graphical display of jobs that have the biggest impact on the system in descending order.

Trend analysis for all jobs showing the history of the job's performance over time.  This feature is incredibly useful; you can identify jobs which have a much worse performance now in comparison to when they were first set up.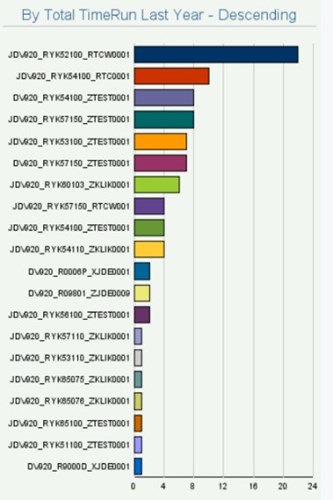 A breakdown of users submitting each job and the amount of times they are submitted



How the Job Performance Analyzer delivers on its objectives

:

⇒  Makes job performance information available to JD Edwards users (

from within the JD Edwards system

)
⇒  Puts you in control of your system performance.
You may also be interested in...