 What version of Purge-it! do you have?
To identify your current release of Purge-it! enquire on the 98/RL UDC table within JD Edwards, using the prefix of KPRG (as shown below).
Your installed Purge-it! release is the highest numeric release number in that list.  In this example, KPRG429F refers to Version 4.29 of Purge-it!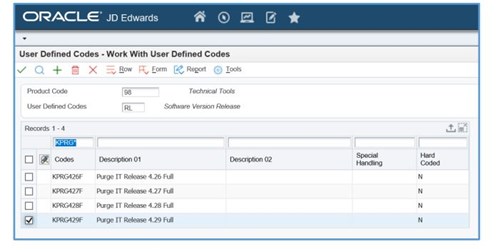 Enquire on 98/RL UDC table within JD Edwards,
with prefix KPRG to discover your version
of Purge-it!
---
Upgrading Purge-it!
We offer a Fixed Price Package to perform the in-situ upgrade of Purge-it! for you in your existing JD Edwards release.  This includes installation of the Purge-it! software into your chosen environment(s) and a health check of the upgraded environment(s).
Performing a Purge-it! upgrade in-situ can be accomplished internally within an organization, but it is usually more efficient and effective to engage with us to perform the Purge-it! upgrade.
In the scenario where you are moving from an older release of Purge-it!, there can be a lot of pre and post ASU tasks to be performed, most of which are surrounding the new version of Purge-it!  All of these will be covered under the upgrade package.
---
You can upgrade Purge-it! as part of a JD Edwards upgrade or whilst remaining on the same release of JD Edwards.
Contact us to discuss your requirements.
---
What changes have there been between major Purge-it! releases?
To quantify the business benefits of a Purge-it! upgrade for your organization, get in touch.
We'll let you know the significant changes that have been incorporated into the software since the release you currently have.
---
Chat to our JD Edwards archiving and data management specialists about your JDE requirements.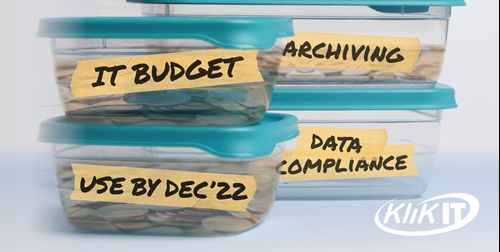 ---